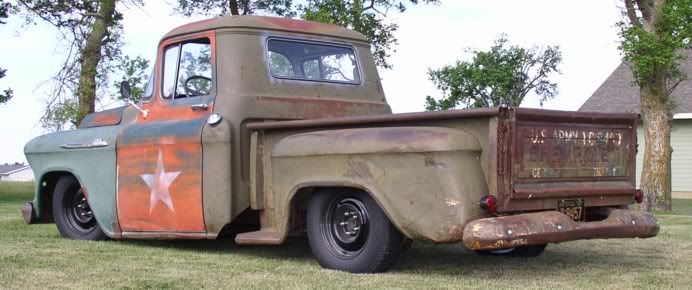 Up for sale, asking $7k or best offer.
Truck is located in Huntsville, AL.
Late-60's Nova front subframe (same as 1st-gen Camaro)
GM rear with "highway" gears (c-notched and boxed)
New brakes (drums on all corners)
new tires on 15" steel wheels
stock rebuilt 235 w/ 3speed on column, runs and shifts great, leaks a little oil.
originally US Army vehicle, still has markings on tailgate and dash tag. We added the stars on the doors for good measure.
New exhaust (even has a tractor muffler for that authentic sound, ha)
Rewired with Hot Rod Wires kit
Just restored and installed a deluxe heater. No wipers though.
All gauges but ammeter and speedometer work. Has an old tach hanging off the bottom of the dash.
Pass. side window is cracked, and windsheild is pretty scratched up.
Pictures are worth a thousand words concerning the body. You'd have to be really enthusastic about body work to try to straighten this thing out and make it pretty.
Alabama doesn't title vehicles this old, but I think I still have the South Dakota title, and current Alabama registration, so you won't have a problem.
My brother and I drove this truck from South Dakota to Huntsville over Labor Day weekend and didn't have any trouble. Truck is/was going to be my daily driver but I can't seem to sell my late-model truck and one of them has to go.
call at 256-520-1676 or email at
casey_dorneman@yahoo.com
More pictures (some from before the chassis work) at
http://s6.photobucket.com/albums/y21...Chevy%20Truck/